A Short History of TD
A Short History of Tardive Dyskinesia: 65 Years of Drug-Induced Brain Damage That Roles On and On – Mad In America Written by the widely-acclaimed, award-winning journalist, author, and publisher of madinamerica.com, Robert Whitaker.
Tardive Dyskinesia Expert Panel 
Thank you to The CURESZ Foundation for sharing their Tardive Dyskinesia Expert Panel, which includes a U.S. map to find a doctor, TD videos, and their newsletter featuring Henry A. Nasrallah, MD, Co-Founder, Vice-President and Scientific Director, The CURESZ Foundation.
Health Monitor Network
The "Guide to Living with Tardive Dyskinesia" by Health Monitor Network is now available. TD warrior Phyllis Hall appears on the cover and is sharing her amazing story offering hope to all those with tardive dyskinesia. TD patients, Cariena Birchard, our Secretary, Leslie Baumgartner, and our Founder, Kathleen Shea, share their insightful self-help tips for living with TD.
WebMD
WebMD has published an online collection of tips from people living with TD. Several of our NOTD friends have contributed to this piece. It is a slideshow with photos of the contributors with their quotes. Thanks to the editors of WebMD.com and writer Kara Mayer Robinson for raising awareness of TD! https://www.webmd.com/mental-health/tardive-dyskinesia-20/tardive-dyskinesia-quotes
Tardive Dyskinesia Health Diary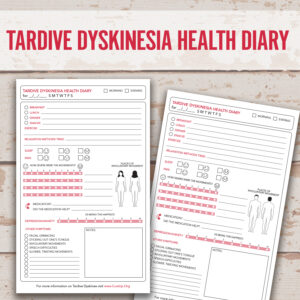 Sign up below to get a free pdf tardive dyskinesia health diary. This is a great way to keep track of your daily symptoms. Just print out as many as you need. Using a 3 hole paper punch and putting the diaries into a binder is what we suggest. 
Download and Print our informational brochure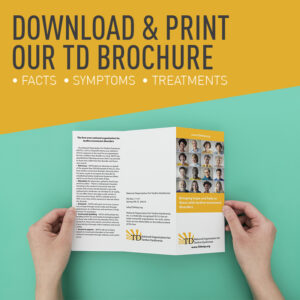 Printable Tardive Dyskinesia Health Card